How to use FSA or HSA Card at Publix in 2022
FSA or HSA cards are a great way to save money on healthcare expenses. You can use them at Publix to buy items that qualify for the FSA/HSA card. These items include over-the-counter drugs, prescription drugs, and health products. And if you happen to be a Club Publix member at one of the 1000+ Publix locations nationwide, you may be subject to even more savings!
What is an FSA?
FSA stands for Flexible Spending Account. It is a tax-advantaged account that allows you to set aside money to pay for eligible health care expenses. You can use the funds to pay for eligible health care expenses at any time during the year.
If you don't need all of your FSA balance, it may have a roll-over period where you can transfer a portion of your balance into next year's account. For most accounts, if you don't use all of your FSA balance before it expires on December 31st, it will be forfeited and cannot be used toward future claims or reimbursed into your checking account!
Where do I find FSA or HSA eligible items at Publix?

Publix has made it fairly easy for you to identify FSA and HSA eligible items in-store. IF you're browsing in-aisle, you need to look for this logo at the shelf tag. However, I found that not all FSA eligible items had this tag. The picture above is what they have displayed on their website, and below is a snapshot I grabbed looking for Benadryl allergy medicine.
"FSA or HSA Eligible" Shelf Tag at Publix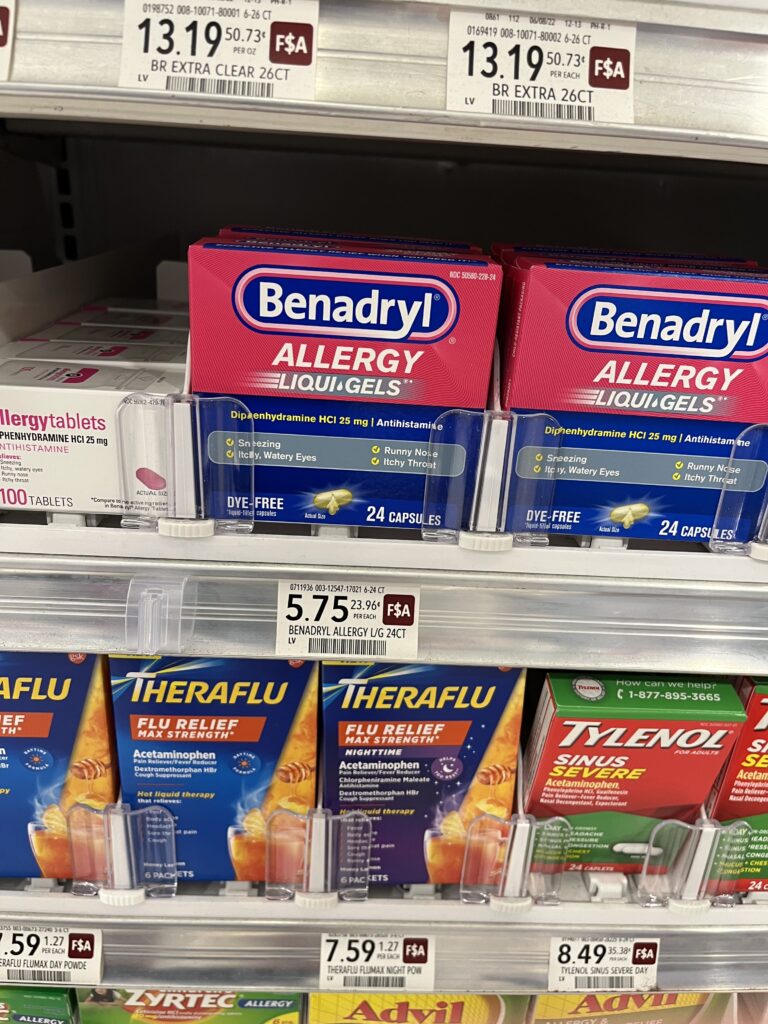 Need more help in finding FSA & HSA Eligible Items at Publix?
Download the BuyFSA app and use their free UPC scanner that checks the item for FSA & HSA-eligibility. BuyFSA also sells 1000s of FSA and HSA-eligible items that you will not find in-store, it is great app for any FSA or HSA cardholder to have!
What are some examples of items I can purchase at Publix with my FSA/HSA card?
At Publix, FSA and HSA cards can be used to purchase a variety of products. Here are some examples:
Over-the-counter allergy medicine like Zyrtec, Flonase, and Allegra

Digestive over-the-counter medicine like Tums and Prilosec

Prescription medications at Publix locations with a pharmacy

Prenatal Vitamins

Reading Glasses

Contact lens solutions and supplies 

Sunscreen with SPF 15 or higher

First Aid
Where can I find a list of FSA eligible products at Publix?
Publix does not have a list of FSA eligible products for you or their workers to reference. The only way to know for sure is to identify items in-store via the shelf tag. You can also check out my FAQ, Amazon.com, or FSAstore.com for more information.
Can I use my FSA card on my deadline at Publix?
Shopping with Publix on your deadline? Just finding out that you need to use your card elsewhere and time is running out? Well please read my ultimate guide to using your FSA card online!
If you are near are Publix, you are safe to use your FSA card on the day of the deadline, because you'll be able to charge your card before the end of the year. However, you will not be able to return these items, as the funds will not be able to be returned to your new balance.
If you can't shop at a Publix, I'd recommend shopping at either Amazon or FSAstore.com!
Additional FSA / HSA Questions?
The FSA/HSA card is a great way to save money when shopping at Publix, especially with how expensive your grocery bill is getting these days! You can use it for groceries, prescriptions, and more! If you have questions about your card or how this works, please contact us.
For any additional questions you may have regarding using your FSA or HSA, please check out my FAQ!
Drop a comment down below if you have any questions or feedback!