Introduction
As we all know, there are a ton of things to buy at Walgreens. Need something for that sunburn? Sure. Need some mouthwash, bandages, or a gatorade? You got it! Walgreens is one of the most popular and well-known drugstores in the United States, but over the years, many people tend to look at their local Walgreens more like a convenience store, but did you know that you can use your FSA card or HSA card to shop a large variety of eligible products at Walgreens online or in-store? Keep reading for tips on how to shop at a Walgreens near you.
Table of Contents
Where do I find FSA or HSA eligible items on Walgreens.com?
There's many ways to discover FSA or HSA eligible products at Walgreens online and in-store. I will go over four ways to discover eligible items:
"FSA or HSA Eligible" Item Flag

Filtering Menu

Category Page
"FSA or HSA Eligible" Item Flag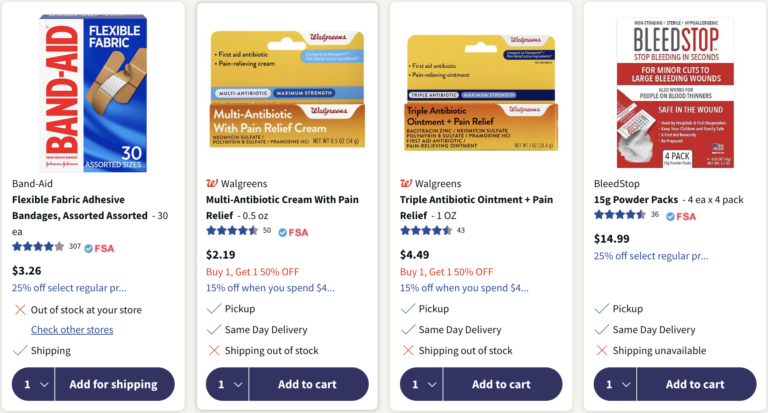 Walgreens has made it easy to find FSA or HSA-eligible items anywhere on the site. All applicable products are flagged with a "FSA or HSA eligible" tag, as you can see in the image above and below. Even though it only says FSA-eligible, rest assured that your HSA card will work as well.

While an item may not have this flag, it does not mean that it is ineligible for FSA and HSA purposes. Look at the above example; there were eligible items mixed in with non-eligible ones. However, all four of these items are eligible. But unfortunately for you, Walgreens will only let you checkout the items that are tagged.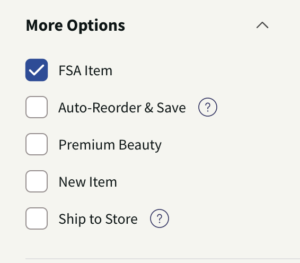 Another easy way to discover FSA / HSA eligible items is to search for your favorite health and wellness brands or products on Amazon, and looking for this "FSA or HSA Eligible" filter on the left hand side. If you don't see it, that means the products you're looking for are not on Amazon's internal FSA / HSA eligible product list. 
Walgreens FSA and HSA Category Page
Walgreens has created its own FSA and HSA stores for customers to use. It's a little difficult to find, but if you search for it on Walgreens' website or on Google, there is a chance that you'll end up here. The website has broken out some of the most popular FSA and HSA-eligible product categories to help you navigate through it. This makes it easy to discover what items or categories are FSA/HSA eligible—online or in store.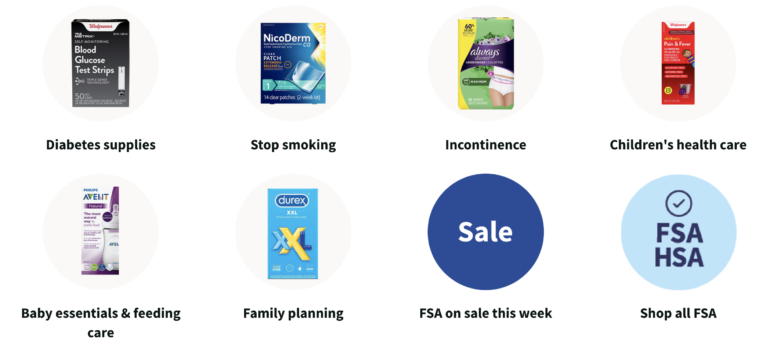 You can navigate to this category by searching for "FSA" on Walgreens.com. Make sure you check out Walgreens brand for additional savings!
How do I find FSA / HSA-eligible items In-store?
What does approved OTC mean at Walgreens?
If you're a frequent Walgreens shopper, you may have noticed the APPROVED OTC label on the shelf tags of some products. While you may think that this is for your FSA or HSA benefit program, it is important to note that there are many FSA and HSA-eligible items at Walgreens that do not have the APPROVED OTC tag. That is because the APPROVED OTC tag is to help label eligible products for United Healthcare (UHC) patients. UHC and Walgreens partnered to make it easier for customers with the OTC card to find eligible products. 
Can I use my FSA card on my deadline at Walgreens.com?

Short answer, yes. However, it is risky to use your FSA card on Walgreens.com if you're shopping on or near your deadline. This is because Walgreens.com charges your card when the item ships. So say you have a 12/31 deadline and would like to exhaust your FSA funds before they expire at midnight. If you use your FSA card for this purchase and your order ships out in January, the funds from your new plan will be charged instead of your old plan year. Meaning, you have lost those funds in your previous plan year.
To ensure your purchase is made in the proper plan year, it is important that you plan ahead of your deadline day and ask your benefit plan administration for more information. I recommend using your credit or debit card on Walgreens.com or Amazon if you are shopping on deadline day, or visiting your nearest Walgreens. You can also use FSAstore.com and BuyFSA.com since they are one of the only online FSA and HSA-eligible retailers that charge your card when it ships.
Can I use my FSA or HSA card on contacts at Walgreens.com?
How can I find out FSA or HSA eligible items on my receipt?
Additional FSA / HSA Questions?
For any additional questions you may have regarding using your FSA or HSA, please check out
my FAQ
! Drop a comment down below if you have any questions or feedback!