Good skin care is therapeutic, but it is definitely not an easy goal to achieve. For one, finding the right skincare products that will work for you could be an exhausting process. And then there's the question of the budget — you might find a great product but its price tag might make you gasp.
Yet skincare is one of those things that you simply cannot ignore!
So, what do you do? As someone who has walked the tight rope one too many times, let me tell you this: find products that are FSA or HSA eligible to include in your skincare routine. For now, I'll be sharing my favorite ones with you so that you can get started.
Looking for ways save on your skin care routine? Stay tuned to the end of the article where I tell you how I saved over $350 last year on my skin care routine by using my FSA card.  
Products I Swear by for My Morning Skincare Routine
Here are a bunch of the usual stuff: some sunscreen, some moisturizer, an occasional serum — you know the drill! Because nothing can replace the holy trinity of skincare, cleansing-toning-moisturizing. 
A lot of trial and error later, I've found myself the following products which work wonders for my skin. 
La Roche-Posay Effaclar Medicated Gel Facial Cleanser
One of my favorite skincare brands, La Roche-Posay's Effaclar face cleanser is ideal for sensitive skin that's prone to acne and breakouts as mine is. This gel-based facial cleanser is extremely gentle on the skin, so you won't feel like your face has been stripped of moisture in the name of oil control. And I absolutely love how amazing it makes my skin feel.
A quick wash with the Effaclar facial cleanser is all you'll need to prep your skin for the rest of the day. Your skin will be squeaky clean, soft, and supple – all at the same time.
I love that this product contains 2% salicylic acid along with 0.05% LHA (Lip Hydroxy Acid). These two ingredients work in tandem to exfoliate the skin, reduce open pores, and help with a host of other stuff including blackheads.
Although the usage instructions suggest wetting your face with lukewarm water before applying this cleanser, I'd suggest going for room temperature to cold water. It helps the cleanser lather nicely and leaves you feeling refreshed after use.
You can buy this facial cleanser for $14.99. It comes in a 6.76 FL. OZ tube that'd last you for a month and a half easily, if not more.
Aveeno Clear Complexion Daily Moisturizer
While no skincare routine is complete without a moisturizer, the right product could be a game-changer for you. And this acne treatment cum tone correcting moisturizer from one of the most well-known brands in skincare is a show-stealer.
You can dab on this moisturizer liberally after cleansing your face. The salicylic acid in it actively helps prevent acne breakouts and it's a dermatologist-approved ingredient that achieves exactly what it sets out to do! It's further fortified with a soy complex that helps even out your skin tone while acting as an excellent spot reduction treatment on a daily basis.
And the moisturizer delivers on its promise. Why shouldn't it, given that Aveeno is known for its excellent line of skincare products? This one is extremely beneficial to anyone looking for an easy skincare routine that shows visible results.
I'd coax you into taking my word for it simply because I have not come across any other moisturizer that works this well! Priced at only $22.41 for a 4 FL OZ bottle, this is a must-have!
EltaMD UV Lip Balm Broad-Spectrum SPF 36
EltaMD is a brand I have trusted for many years now and their excellent range of skincare products never fails to impress. This broad-spectrum SPF 36 lip balm is just what you need to give your lips some hydration and sun protection before stepping out for the day. Creamy, colorless, and fragrance-free, this lip balm is highly moisturizing yet very breathable.
Most of all, it does not make you feel like you're wearing something heavy and works as the perfect base for your lipstick. This one works well on all types of skin, especially sensitive ones. I recommend the UV lip balm to everyone because it wears so well! You won't even feel a thing, but this lip balm will also work on your chapped lips, giving them a plump and radiant look.
You need to shell out $13 for a 0.28 Oz squeeze tube, but it lasts for a long time and therefore makes for a great investment.
Supergoop! PLAY Everyday Face & Body Sunscreen Lotion
You'd be surprised to know just how many nice skincare products are available on Amazon. This PLAY Everyday broad-spectrum SPF lotion from Supergoop! is a great example.
You can apply it all over your face and body – with SPF 50, this sunscreen lotion provides you protection against the harmful UVA, UVB, and IRA rays of the sun. I've been using this product for a while now and the fact it doesn't make me sweat or leave a chalky residue behind gets two thumbs up from me.
Supergoop! also happens to be a sustainable brand and therefore wins brownie points from me. There's nothing better than knowing the product you're using is clean and green.
The PLAY Everyday SPF face and body lotion comes in an easy-to-dispense pump bottle and is priced at $58 for an 18 FL. OZ pack.
Skincare for Skin Conditions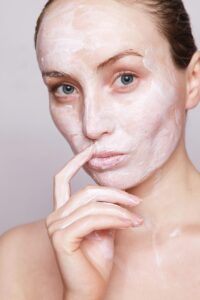 Now let me talk to you about skin conditions and skincare products that can possibly come in very handy for them. With FSA and HSA eligible skin care products, it's never been easier to save money while managing your skin condition.
Even though I enjoy good skin right now (fingers crossed), I have suffered from a few conditions in the past. The products I'm now going to share with you have all worked out well for me. 
La Roche-Posay Lipikar Eczema Soothing Relief Cream
This is the second product from La Roche-Posay on this list and I cannot stop gushing about the brand! Their range of skincare products is one of the very best out there. This Lipikar Soothing Relief Cream for eczema is no exception.
You can apply it topically on the affected areas on your face and/or body to relieve the discomfort caused by eczema. Because the cream is free of antibiotics and does not contain any steroids, this cream is safe for long-term use.
While you must always consult a specialist, in this case, a dermatologist if you suffer from eczema or any other skin condition, La Roche-Posay will not disappoint you. You can even safely use it for children who are at least 3 years of age or older.
Alva Prosacea Medicated Rosacea Gel
As someone who has seen her friends suddenly break out into a skin condition called Rosacea (blame it on the sun and pollution), I had to include a product that could take care of the condition.
For the uninitiated, Rosacea causes red patches with angry pimples to break out in your cheek and nose area. And this topical ointment gel from Prosacea is a fantastic cure for the condition. Non-comedogenic in composition, this gel soothes and cures Rosacea with repeated application without any harmful side effects.
While the ointment is not entirely fragrance-free, whatever scent it has is mild and non-intrusive. I've seen this product help my friend with her skin condition immensely and she's someone with sensitive skin.
Given that Prosacea is known for its dermatologically tested products, I can vouch for this cream to do its job rather well.
Why Choose FSA & HSA Eligible Products? 
Because it can save you a fair amount of money every year. If the products you purchase are FSA (Flexible Spending Account) or HSA (Health Spending Account) eligible, you're likely to have the prices covered by these two.
Consider this, just the morning skincare routine products that I've listed here would cost you $1358 on a yearly basis if you use at least one of each every month! But, these products are all FSA eligible and HSA eligible. That implies you make a yearly savings of $441 bucks on your skincare routine. That's quite a few fancy dinners right there.
How did I calculate my $441 savings? Well first I went to this FSA calculator on Cigna's website here. I put in my salary and how much I plan on spending on skin care with my card, and this calculator showed my estimated tax savings.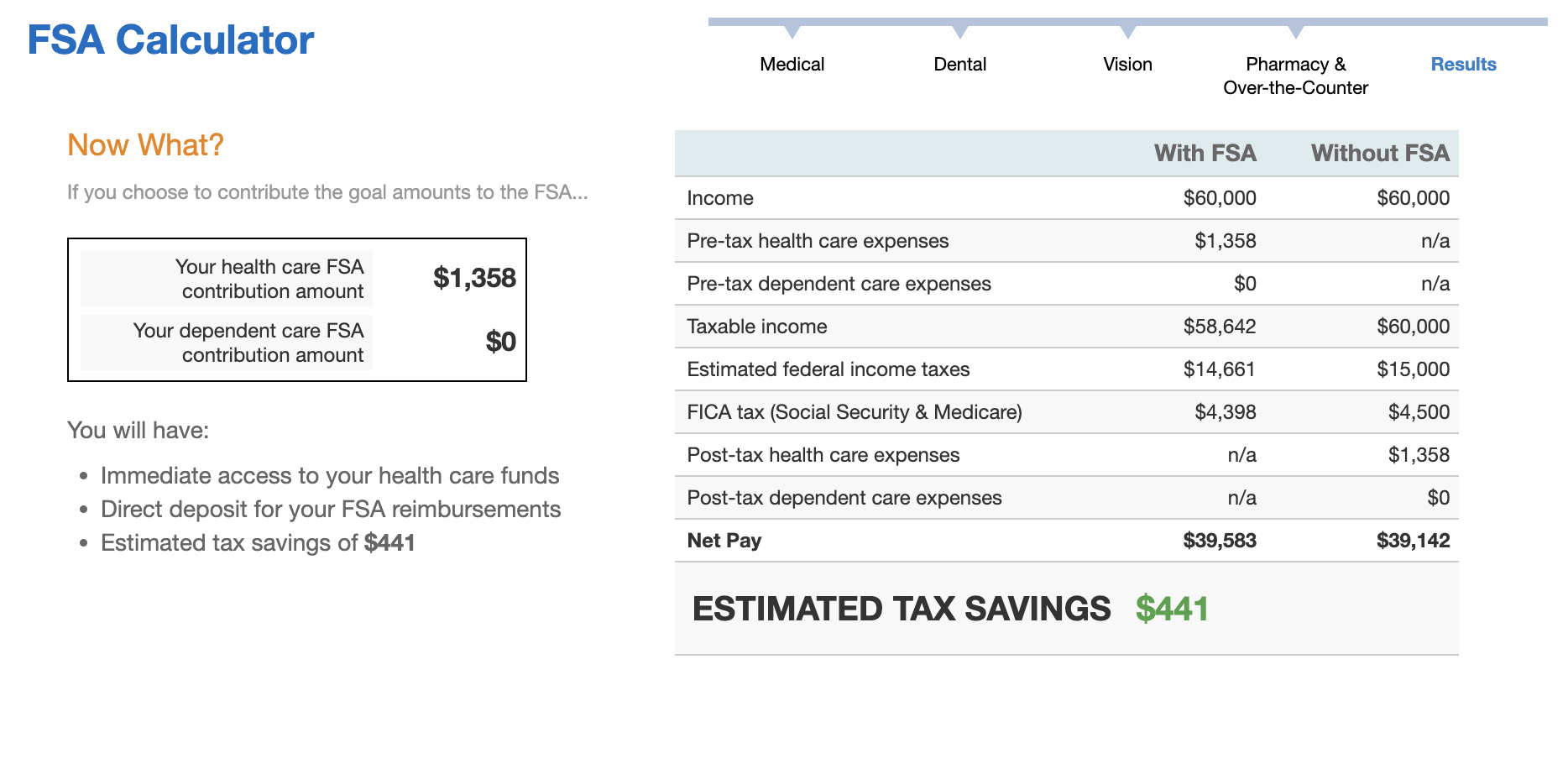 You can see here how contributing to my FSA card and using it on these expenses lowers my taxable income, and increases my net take home pay for the end of the year! 
Think $1358 is a lot to spend on these types products? I don't blame you, but research shows that the average woman spends over $313 a MONTH on beauty related products. Imagine how much you would save if all your beauty products were FSA and HSA eligible!
I love it when my skincare routine comes with tax benefits, and I'm sure you would too. So, consider the FSA and/or HSA eligibility when you search for your skincare products.
It's rather easy to do so if you're making your purchase from an online marketplace like Amazon. Simply select the FSA/HSA Eligible option when searching for products and you'll be good to go!
Skincare that Counts 
As someone with sensitive skin, I've often had through go traumatic experiences when it came to skincare. Nothing would make much of a difference until I chanced upon this combination. And since then, it has worked wonders for me.
I hope it does the same for you too.